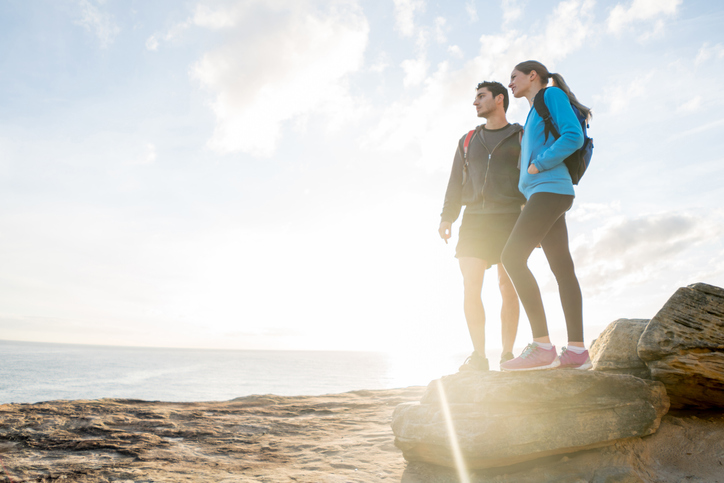 The Palos Verdes Peninsula is an outdoor adventurer's dream. Its exceptional location along the southwest coast of California makes it an incredible place to enjoy hiking trails of varying lengths and difficulty levels.
The great thing about hiking around this area is that no matter which trail you choose, you're sure to enjoy spectacular, picturesque views in all directions – from expansive, natural open spaces to sparkling Pacific Ocean vistas.
Ready to take on the trails? Check out the five best hikes in Palos Verdes below:
Deane Dana Friendship Park
Trailhead: 1805 West 9th Street, San Pedro, CA 90732
Distance: 1.1 miles
Elevation: 200 feet
Located on the south side of the peninsula, the Friendship Park trail covers an easy, 1.1-mile loop around the 123-acre open space. It has a moderate climb up to 200 feet that gives hikers great vantage points for viewing Catalina Island, Long Beach Harbor, and the rest of the Pacific horizon.
A bench located at a scenic perch along the trail marks a four-way junction that gives hikers multiple options to explore. All diverging paths eventually lead back to the main trail.
This trail is excellent for beginners and even features wheelchair-accessible portions. You can also bring your dog, as long as you keep him on a leash.
Portuguese Bend Reserve
Trailhead: Crenshaw Boulevard and Burrell Lane, Rancho Palos Verdes, CA 90275
Distance: 5.15 miles
Elevation: 975 feet
Covering a total distance of 5.15 miles with an elevation gain of up to 975 feet, this is the most involved hike in this list. It features a double loop that includes picturesque hillsides, ridges, and canyons.
This trail rewards hikers with stunning Pacific views, but it requires a degree of hiking experience and proper physical conditioning. The good news is that the trail begins downhill, which means you won't expend energy on an early climb. The second half of the hike goes back uphill, however.
Less experienced hikers can cut their trip down to just three miles and only 575 feet of elevation change by skipping the lower loop.
Quarry Loop
Trailhead: 32323 Forrestal Drive, Rancho Palos Verdes, CA 90275
Distance: 1.25 miles
Elevation: 325 feet
Part of the Forrestal Nature Reserve on the southwest side of the peninsula, Quarry Loop goes around a 155-acre green space nestled on cliffs overlooking the Pacific Ocean. You will be spoiled with sweeping ocean views along this trail, with bonus glimpses into an old basalt quarry.
The entire loop comprises four different trails, but remains a relatively short trek at just 1.25 miles in total.
The highest point is located along the Pirate Trail, climbing up to 325 feet. Although this route promises the best ocean views, choosing its steep ascent first is more exhausting and will have you facing away from the best sights. You are better off choosing a gradual climb up Quarry Trail, Basalt Trail, and Mariposa Trail before going downhill along the Pirate Trail.
Seascape Trail
Trailhead: Pacifica Del Mar, Rancho Palos Verdes, CA 90275
Distance: 1.5 miles
Elevation: 40 feet
If you want to take your entire family out for a casual hike, this trail is the perfect choice. This 1.5-mile trail is level nearly the entire way, with a barely noticeable elevation change of only 40 feet. With outstanding panoramic views of the Pacific Ocean throughout the trail, this hike is an excellent way to introduce your youngsters to the joys of outdoor adventure.
Seascape Trail takes off from a variety of trailheads. There is one starting from the Point Vicente Interpretive Center and another from the Terrace Access Trail. If you opt to end at Point Vicente, your family can enjoy the lighthouse area as a picnic area. Better yet, plan your hike on the second Saturday of the month (except March), so you can access the lighthouse itself.
White Point Nature Preserve
Trailhead: 1600 West Paseo Del Mar, San Pedro, CA 90731
Distance: 1 to 2.5 miles
Elevation: 150 feet
With a retired military bunker as its main attraction, this trail is one of the most interesting hikes you can experience around the peninsula. Going around the 102-acre White Point Nature Preserve, the hike stretches between one to 2.5 miles with a modest elevation change of 150 feet.
The bunker you will see along the way was a coastal defense site used during World War II. The amazing structure features a 17-foot-thick, steel-reinforced concrete ceiling that has turned into an artificial hill through the decades. Despite the bunker's role in a marked period of hostility, it is now surrounded by nothing but soothing vistas of the vast Pacific Ocean.
From horseback riding to whale-watching, Palos Verdes offers a wide range of unforgettable adventures. Stay close to all the action by making this picturesque peninsula your home. Call The Stephen Haw Group at 310.503.9886 or email [email protected] for other local area tips and recommendations.