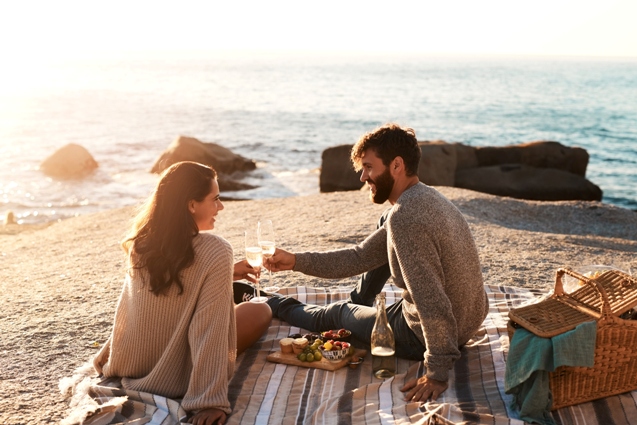 The Palos Verdes Peninsula boasts some of the most scenic spots in all of California. There's no shortage of amazing beaches, natural parks, and other outdoor destinations here. And with sunny weather almost all year round, any time is a good time for a picnic, especially in these amazing picnic spots:
Abalone Cove Shoreline Park
5970 Palos Verdes Drive S
Rancho Palos Verdes
This waterfront park showcases the beautiful Palos Verdes coastline, featuring miles of rugged bluffs towering over tranquil beaches. The park has two beaches, Abalone Cove and Sacred Cove, which you can reach by hiking through your choice of trail. Low tides reveal tide pools with all kinds of sea creatures. There are picnic areas with benches and picnic tables, as well as bluff-top viewing areas and an extensive trail network.
Palos Verdes Estates Shoreline Preserve
Paseo Del Mar
Palos Verdes Estates
Encompassing around 1,400 acres, the Palos Verdes Estates Shoreline Preserve comprises eleven individual preserves, including the 424-acre Portuguese Bend Preserve. The area is home to coastal sage scrub, which also serves as habitat for a variety of wildlife. The individual preserves feature hiking, biking, and equestrian trails, many of which lead to the beach where you can find picnic tables and some shade.
Del Cerro Park
2 Park Place
Rancho Palos Verdes
Situated on a bluff top, Del Cerro Park features stunning panoramic views of the Pacific Ocean and Catalina Island, as well as of the surrounding canyons and coastal headlands. The park is landscaped and features benches for a truly relaxing picnic experience. There are a number of easy trails that are part of an interconnected network, so you can find your way around with no trouble.
South Coast Botanic Garden
26300 Crenshaw Boulevard
Palos Verdes Peninsula
This stunning 87-acre garden features numerous flowering trees and shrubs that bloom in different seasons, creating beautiful nature shows all year long. There are 12 specialized gardens, including The New Rose Garden, Fuchsia Garden, Garden for the Senses, and the Banyan Grove. The gardens also host various events, such as art shows, health, and wellness classes, live performances, and more. There are benches throughout, and you may also bring your own chairs and blankets for a picnic.
Marilyn Ryan Sunset Point Park
1 Ocean Trails Drive
Rancho Palos Verdes
Named after the first mayor of the City of Ranchos Palos Verdes, this 1.5-acre park leads to the Trump National Golf Course and features gorgeous views of the surrounding bluffs, the ocean, and Catalina Island. Within the park, you'll find scenic, easy trails that are perfect for a relaxing walk or bike ride. There are also a number of picnic tables and benches where you can sit back and munch on snacks and sandwiches while enjoying the stunning view.
Malaga Cove
Paseo Del Mar and Via Arroyo
Palos Verdes Estates
The sandiest beach in Palos Verdes Estates, Malaga Cove is the south end of a long stretch of beaches that include Redondo Beach and Torrance Beach. It can be reached from a parking lot through the Malaga Cove Trail, a descending trail that offers gorgeous views of the area. The beach is popular with surfers, sunbathers, and scuba divers. It also features a bike trail that can take you as far north as Marina del Rey.
Averill Park
1300 South Dodson Avenue
Los Angeles
This well-maintained park boasts beautiful features like a waterfall, a stream, walking paths, and ponds inhabited by ducks and geese. A walkway lined with roses leads to a hilltop gazebo with amazing views. The park is a popular venue for weddings and private events, and with picnic tables and barbecue grills, it's also a great spot for a fun picnic with family and friends.
Ocean Trails Reserve
5970 Palos Verdes Drive South
Rancho Palos Verdes
Featuring easy downhill trails, Ocean Trails Reserve includes 65 acres of preserved natural habitats and features gorgeous overlooking views of the Pacific Ocean and the surrounding hills. It leads to a tranquil and less crowded beach that's great for a picnic. The adjoining Founders Park also has a picnic area with tables and benches, as well as a gazebo, walking and biking trails, and other features.
Terranea Bluff Top Park
31300 Palos Verdes Drive South
Rancho Palos Verdes
Terranea Bluff Top Park is what locals call the Terranea Discovery Trail, an easy, winding trail that stretches one to two miles and leads down to the beach. It features six interpretive stations, as well as breathtaking views of the ocean and the peninsula below. You can also get a good view of the Point Vicente Lighthouse and Catalina Island. Picnic tables are available at the trailhead and in the Lady of the Light and Its So Diatomaceous interpretive stations.
Looking for the perfect home, close to these wonderful Palos Verdes attractions? The Stephen Haw Group are the Realtors to call. Get in touch with us at 310.503.9886 or leave a note here.