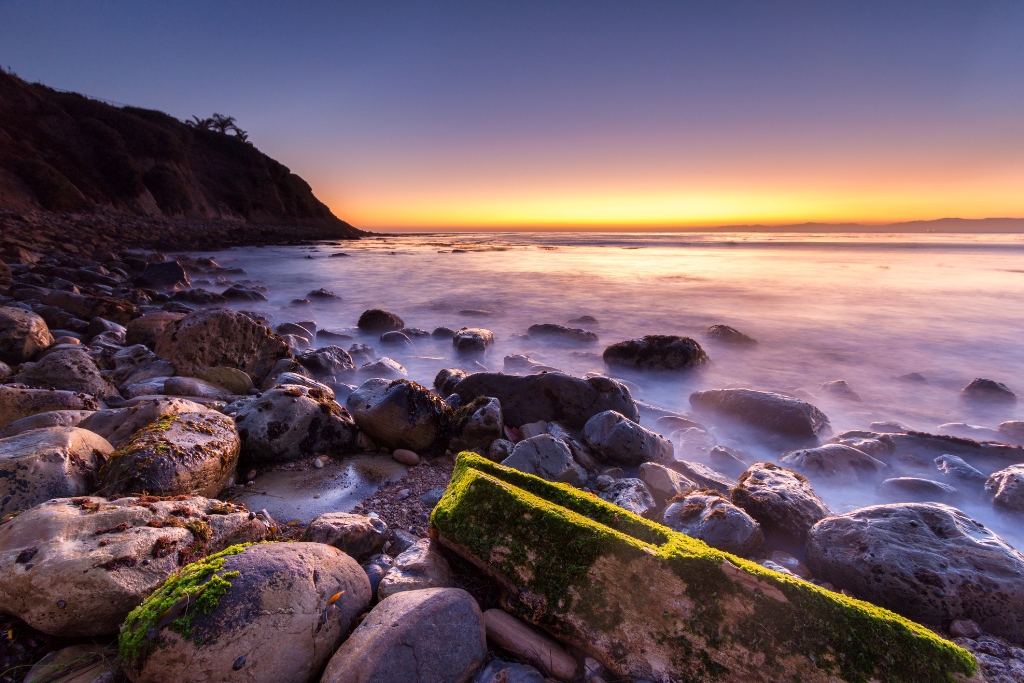 The Palos Verdes Peninsula, located in the southern portion of Los Angeles County, is an affluent area with expansive views of the Pacific Ocean. Palos Verdes or PV comprises four cities – Palos Verdes Estates, Rancho Palos Verdes, Rolling Hills, and Rolling Hills Estates.
PV is also home to must-visit beaches with killer views. Here are six of them, chosen not only for their visual allure but also for offering a good mix of activities that everyone can enjoy.
Before going off to explore, however, mind your footwear. Except for Malaga Cove Beach (see Number 6 below), most of the places on this list have very rocky shores.
Here are the six best beaches with the best views in Palos Verdes, CA.
Pelican Cove Beach

31300 Palos Verdes Drive, Rancho Palos Verdes, CA

This beach used to be a fishing spot called Point Vicente Fishing Access. While fishing is no longer allowed because it is now a protected area, Pelican Cove Beach still boasts of vantage points from which to spot whales when they migrate.

The Tobermory trail offers a nice challenge for avid hikers while tide pools give a glimpse of life under the ocean (scuba diving is also an option). Must-see attractions beyond the beach include Point Vicente Lighthouse, Point Vicente Interpretive Center, and Point Vicente National Park.

Terranea Cove Beach
100 Terranea Way, Rancho Palos Verdes, CA

Aside from the beautiful views of the ocean, this destination is perfect for hiking, exploring caves, and whale watching. The beach is also just beside the Terranea luxury eco-resort, which has made its trail paths and beaches accessible to the public.

During low tide, adventure seekers will definitely want to check out the large sea cave, located east of the resort's private landing. While you're in the area, it's also not a bad idea to see what the resort has to offer.

Public parking is available along Terranea Way.

Abalone Cove Beach
5970 Palos Verdes Drive South, Rancho Palos Verdes, CA

Located at Abalone Cove Shoreline Park, the beach features spectacular coves, a great view of Catalina Island, and one of the best tide pools in California. The bluffs themselves are an ecological reserve.

Hiking trails start from the parking area all the way to Portuguese Point and the iconic coves. Make your way to Wayfarer's Chapel for a tranquil view from the top or visit the Palos Verdes Heritage Castle Museum.

Portuguese Bend Cove Beach
4600 Palos Verdes Drive South, Rancho Palos Verdes, CA

Here's a spot that you can go to right after Abalone Cove Beach – just head east. Portuguese Bend is another protected area and while there's not a lot of beach, tide pools and sea caves surface at low tide. Sandwiched between Portuguese Bend and Abalone Cove is Sacred Cove, where you can find more sea caves and tunnels to explore.

Bluff Cove
609 Paseo Del Mar, Palos Verdes Estates, CA

Scenic views from the rocky Bluff Cove await. It's a great place to take a leisurely stroll and admire Mother Nature. Too laid back? Gutsy explorers can go scuba diving and snorkeling. Adrenaline junkies should also befriend local surfers for a few pointers on how the waves at Bluff Cove roll. Like the other beaches on this list, tide pooling is also possible at low tide.

Further south from Bluff Cove, walk about 2.5 miles to Palos Verdes Estates Shoreline Preserve to see the wreckage from an old ship. Be careful not to cross property lines as the site is close to private property.

Malaga Cove Beach
Paseo Del Mar and Via Arroyo, Palos Verdes Estates, CA

Here's a sandy beach where people can go barefoot. Located at the northern end of Palos Verdes Estates, the beach shares its sandy shores with Redondo Beach and Torrance Beach. Scuba diving, surfing, sunbathing, and swimming are the usual activities. Towards the right of Blufftop Trail lies Palos Verdes Beach and Athletic Club, where you can purchase day passes to enjoy the swimming pools, Jacuzzis, saunas and steam baths, snack outlets, and swimming and water aerobics classes.
If you're thinking of finding a home near these spectacular Palos Verdes beaches, The Stephen Haw Group will be happy to show your options. As local experts with international connections, the team will find you a home that ticks the boxes on your real estate wish list. Call 310.503.9886 or email skh8828(at)gmail(dotted)com today to take advantage of their professional guidance.